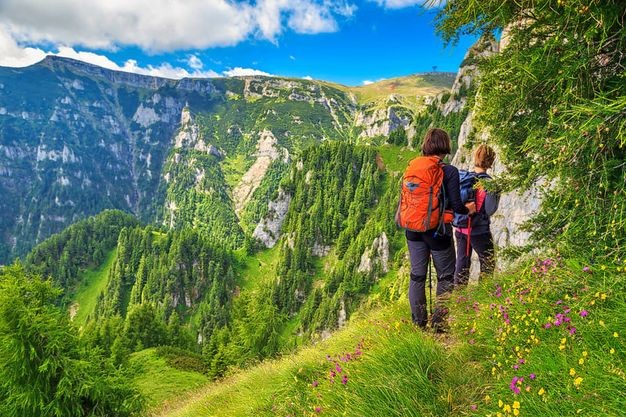 Tour Details
About Valley of Flowers Trek:
---
---
Valley of Flowers is one of those beautiful trekking expeditions that can be enjoyed during the Raini season. It is flawlessly nestled in the West Himalayan region of Uttarakhand and lies at a lofty height of 3600 m above sea level. With an opportunity to spot the very rare blue Primula, the Valley Of Flowers trek is one of the best-known treks in the world. The Valley of Flowers is also believed to be the place from where Hanuman brought the magical herb to resuscitate Lakshman in the Hindu epic Ramayan. Just as you set your foot into the valley, the intoxicating mix of fragrances emitted from the flowers makes you feel in a paradise.
---
---
Quick Facts about Valley of Flowers Uttarakhand Trek:
---
---
Start Point/End Point: Haridwar
Duration: 6D/5N
Maximum Altitude: 14,400 ft
Valley of Flowers Trek Distance: 47 km
Temperature: Day 12°C-20°C and Night: 4°C-10°C
Valley of Flowers Trek Best Time: June end to mid-September
---
---
Available Group Departure Dates -
---
---
➔June ➔19,20,26,27
➔July - 3,4,10,11,17,18,24,25,31
➔August - 1,7,8,14,15,21,2,28,29
➔September - 4,5,11,12
---
---
Note: Customisation available on request
---
---
Packages Cost
---
---
➔Govindghat to Govindghat - 6500 INR Person ( Sharing Basis )
➔Haridwar/Rishikesh - 8500 INR Person ( Sharing Basis )
---
Included
meals
Stays
Safety Equipments
Transportation From Haridwar / Rishikesh
Activities: Trekking & Camping
Expert trek Leaders
Expert Trek support team
Excluded
Any kind of Personal Expences
Food during transit
Mules or Porter
Any expenses for medical treatment of injury or accidents
Any early return travel costs or accommodation except for the days as per the itinerary
Anything not specifically mentioned under the head.
Tour Map
DAY 01

Haridwar to Govindghat - Distance: 300 km
At around 7 am, assemble at the pre-decided spot in Haridwar where a representative will meet you and give a short overview of your entire journey. After that we will start a long-distance, scenic uphill drive from Haridwar to Govindghat. Along the way, pass through Devaprayag to witness the holy confluence of Bhagirathi and Alaknanda Rivers to form the River Ganges. You will also be passing through Joshimath, which is the midpoint for other religious pilgrimage locations. Later in the evening take a halt at Govindghat for the night.
DAY 02

Govindghat to Ghangaria - Distance: 13 km
Start off the day with a healthy meal enjoying the amazing lush green mountainous views. You will then be driven to a nearby town called Poolna from where you will start your trek to Ghangaria. Walk the well-defined trail that passes through lush green forest and alongside the beautiful Lakshman Ganga River. Encounter the various dhabas on the way from where you can get some refreshments and refill your water bottles. After completing the short gradual ascent of 9 Km you will reach Ghangaria, a small village encircled by mountains. Check into your hotel, and set off to explore the beautiful surroundings. Have a delicious dinner of local cuisines in Ghangharia and call-it-a-day.
DAY 03

Valley Of Flowers - Distance: 4 km (one side)
Start your day with a wholesome breakfast. Today will be the day you will scale a height of 3,505m to arrive at the Valley Of Flowers. Take a moment to cherish the moment as you feast your eyes on one of nature's finest creations that will treat your soul. Ascend further into the valley to witness an array of thousands of colourful and vibrant flowers in full bloom. It'll be hard to leave such a beautiful view behind, but you must timely begin the return trek to Ghangaria so as to reach there before dusk. Have a dinner and call it a night.
DAY 04

Hemkund Sahib - Distance: 6 km (one side)
Wake up early to the sounds of the people chanting bhajans in the chorus and enjoy a hot cup of chai. The trek to Hemkund Sahib is a bit difficult as the path is a steep ascent and a trekking stick can come in handy. Walk slowly and take numerous breaks as you will feel the effects of reduced oxygen levels in the air. Reach Hemkund Sahib, a religious site where Guru Gobind Singh is said to have meditated in the previous life. In the late afternoon, start the steep descent all the way back to Ghangaria as the weather here can be impulsive with sudden cloud cover and rains. Once you reach back enjoy a dinner under the starry sky and an overnight stay at the hotel.
DAY 05

Ghangaria to Govindghat - Distance: 13 km
After having morning breakfast, you will be starting the easy descent of 9 km to Poolna on the same trail that you trekked on earlier. Once you reach Poolna a cab will take you back to Govindghat that is 4 km away. If you desire, you can go on a tour of the beautiful Auli in the evening. Later in the evening return back to the hotel in Govindghat for an overnight stay.
Day 06

Govindghat to Haridwar - Distance: 300 km
Leave Govindghat early for your return journey back to Haridwar. The Valley of Flowers Trekking package ends here.
Please login to add rating!